We are excited to announce our 2023-2024 Teachers of the Year: Ms. Drew Fulton and Ms. Danielle Bates! Congratulations! ❤️🤍🖤 #GoRedskins

Check out our Work Based Learning Student Spotlight! These students are excelling at their jobs! #RedskinsAreRising

Herff Jones will be on campus October 4 if missed order night. 10th, 11th, and 12th graders that need to make orders, come to the BCMHS Cafeteria between at 6:00! ❤️🤍🖤 #RedskinsOnTheRise

📣 It's GAME DAY, y'all! 📣 👏 Let's pack the stands and show our school pride! Wear your colors, wave those foam fingers, and get LOUD! 💥 Let's cheer on our athletes as they give it their all on the field. #GoRedskins #RedskinsAreRising
NEXT WEEK IS... 🎉 Homecoming Week Sept. 25-30 🎉 📅 Here's what you can look forward to: 🎽 Monday: Matty Ice - Wear your favorite jersey! 👑 Tuesday: Ice Me Out – Wear your bling! 📷 Wednesday: Ice Ice Baby – Throwback! 🔴 Thursday: Too Much Ice – Redskin Spirit Day! ⚫️ 🥳 Homecoming Parade 6:00PM 🔥 Powder Puff Game & Bonfire 6:45PM-8:15PM 🤍 🏈 Friday: Homecoming Game-Ice out the Eagles-WHITE OUT - It's the big day! Cheer on our Redskins at the Homecoming Game. Let's pack the stands and show our rivals how we do it! 🕺 Saturday: Homecoming Dance – 7:00-10:00PM – Purchase tickets at
https://gofan.co/app/school/GA23126
.

#MathisFun #Teambuilding #Practice ➕➖➗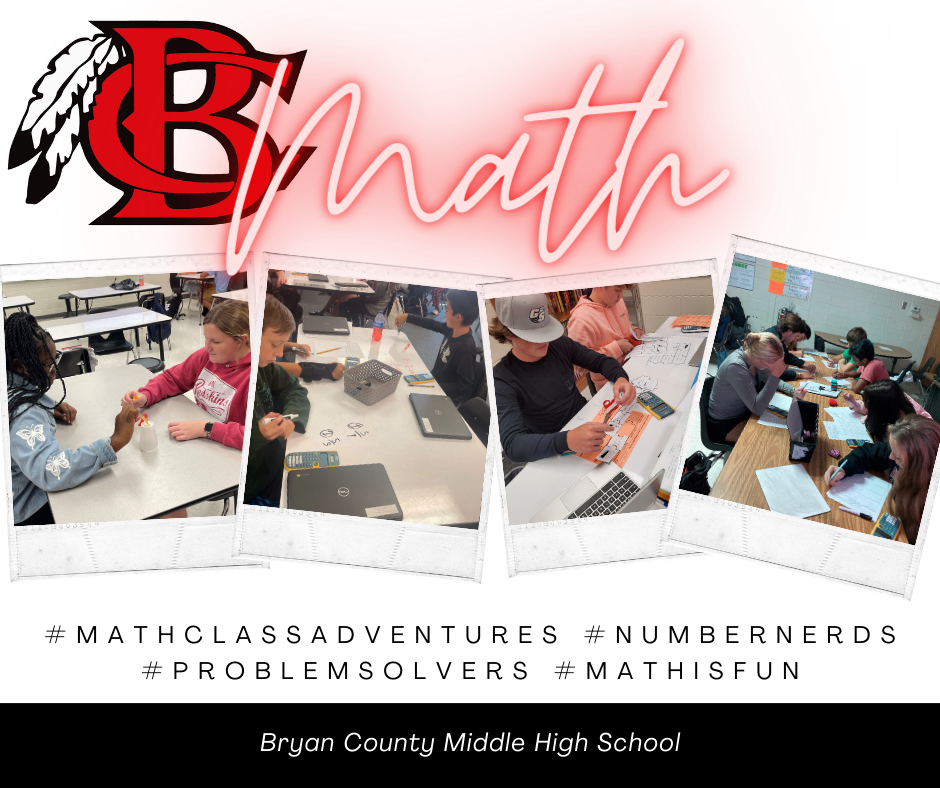 Raiders Meet Day! Come out and support our Raiders as they compete in Metter at 9:00am! #GoRedskins
🏈📣 It's GAME DAY, y'all! 📣🏈 Get ready to feel the adrenaline, because today is all about those Friday Night Lights and high school spirit! 💥 Whether you're a player, a cheerleader, a band member, or just a die-hard fan, let's come together to support our Redskins and make some unforgettable memories! Don't forget-BLACKOUT the Panthers! 🖤🏈🖤
❤️ 🥎It's GAME DAY! 🥎❤️ Come out and support our Bryan County Middle Lady Redskins softball team as they take on the Claxton Tigers. 4:30PM at BCMHS! #GoLadySkins #RedskinsAreRising
📣 It's GAME DAY, y'all! 📣 👏 Let's pack the stands and show our school pride! Wear your colors, wave those foam fingers, and get LOUD! 💥 Let's cheer on our athletes as they give it their all on the field. #GoRedskins #RedskinsAreRising
Mrs. Newton's 7th grade science classes explored the Six Kingdoms from a microscopic perspective. Taking a closer look helps us to understand the differences between various creatures that inhabit our earth. ❤️🔬🖤 #RedskinsOnTheRise
Join us Tuesday, September 19th at 5:00 in the cafeteria for Bryan County Middle High School's Fall Curriculum Night. Get the opportunity to connect with your child's teachers. Free gift bags for the first 200 families in attendance! See you there. ❤️🤍🖤 #RedskinsOnTheRise
Clear your calendar for March 14. You won't want to miss this. It's BCMHS Night at Enmarket Arena in Savannah for a Savannah Ghost Pirates Game. Visit tinyurl.com/bcmhshockey to get tickets before they sell out! ❤️🤍🏴‍☠️🏒 #RedskinsOnTheRise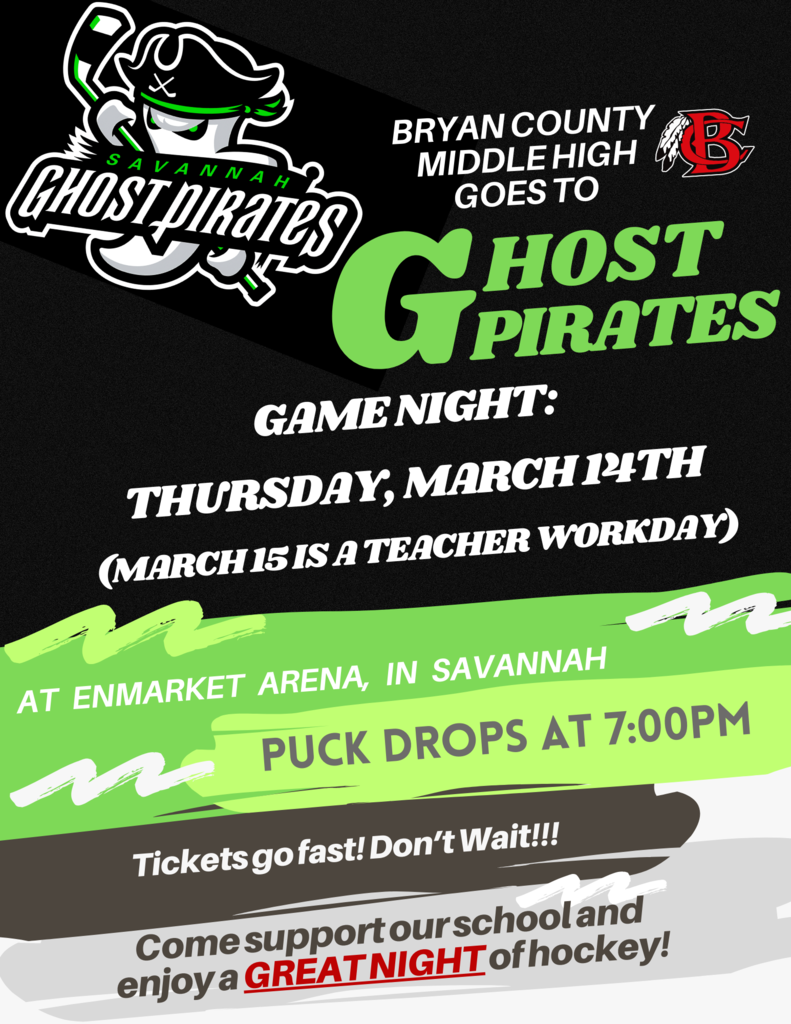 🎉 Homecoming Week Sept. 25-30 🎉 📅 Here's what you can look forward to: 🎽 Monday: Matty Ice - Wear your favorite jersey! 👑 Tuesday: Ice Me Out – Wear your bling! 📷 Wednesday: Ice Ice Baby – Throwback! 🔴 Thursday: Too Much Ice – Redskin Spirit Day! ⚫️ 🥳 Homecoming Parade 6:00PM 🔥 Powder Puff Game & Bonfire 6:45PM-8:15PM 🤍 🏈 Friday: Homecoming Game-Ice out the Eagles-WHITE OUT - It's the big day! Cheer on our Redskins at the Homecoming Game. Let's pack the stands and show our rivals how we do it! 🕺 Saturday: Homecoming Dance – 7:00-10:00PM – Purchase tickets at
https://gofan.co/app/school/GA23126
.
🏈🖤 Game Day Blackout Alert! 🖤🏈 Get ready to turn up the heat because Friday is GAME DAY, and we're going all out in style with a BLACKOUT! 🌑🔥 Show your team spirit by donning your boldest and baddest black gear! Whether it's a jersey, or a t-shirt! Let's BLACKOUT the Portal Panthers! 🏟️ It's not just about the attire; it's about the energy we bring to the stadium. We have a high school student fan bus heading to Portal; students can begin purchasing tickets during lunch on Tuesday-$10 cash (don't forget-complete the permission form below).
https://docs.google.com/document/d/1BmGMJBuTCF_qHvINbeIPuj8WkUgOQUBt/edit?usp=sharing&ouid=106582122018809725575&rtpof=true&sd=true

Dual Enrollment Fall Data

Work Based Learning News