It's time for end-of-the-year medication pick-up. All medication, including inhalers & EpiPens must be picked up by a parent/guardian no later than 2:00 p.m. on Monday, May 22nd. Any medication remaining will be safely discarded at that time.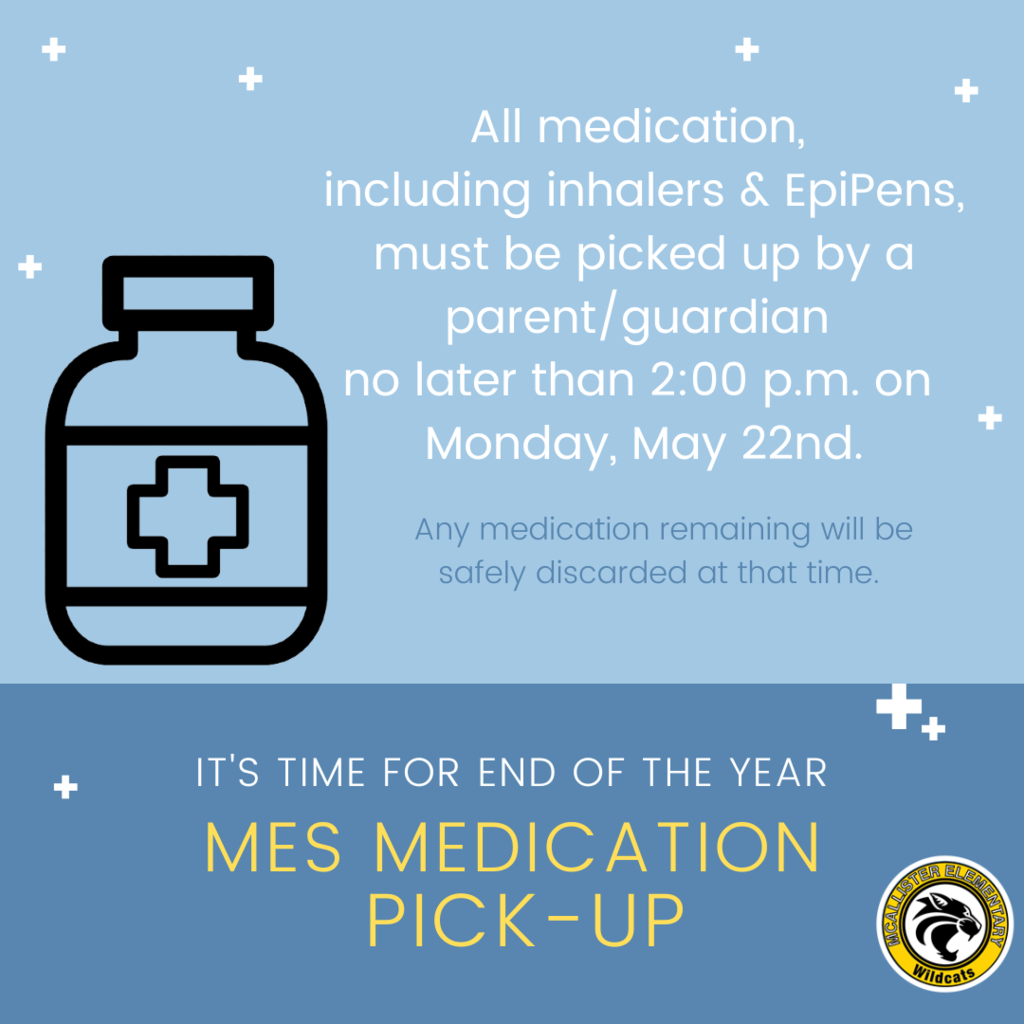 LIBRARY BOOKS: May 5th is the last day to check out books from Camp Read S'More. All books are due back to Camp Read S'More on May 12th. Lost book fees will be in MPP on May 17th.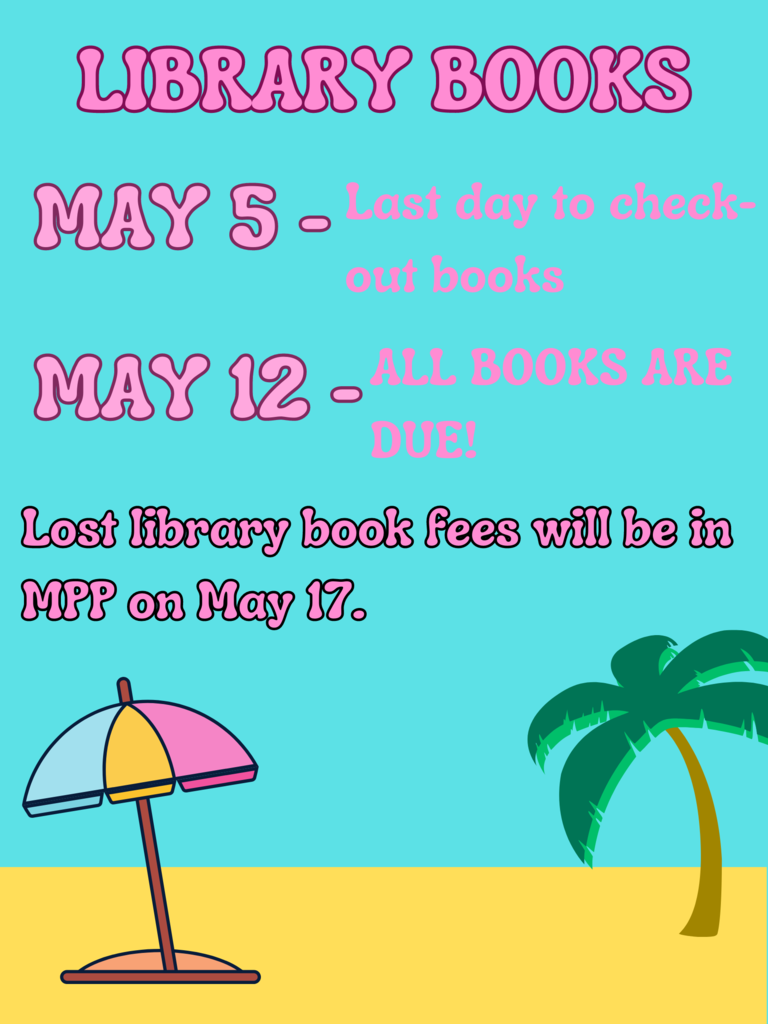 Field Day will be held on May 15th for 2nd, 3rd, 4th, and 5th grade students. Field Day will be held on May 16th for PK, Kindergarten, and 1st grade students. Please ensure students dress appropriately for physical activity and the weather.

Save the date for RHMS Future Wildcat Night on Tuesday, May 2nd. Session 1 (Last Names A-L) 4:30-5:15 and Session 2 (Last Names M-Z) 5:30-6:15. This is a great time to explore RHMS, learn more about clubs, sports & academics, and meet teachers, counselors & administrators.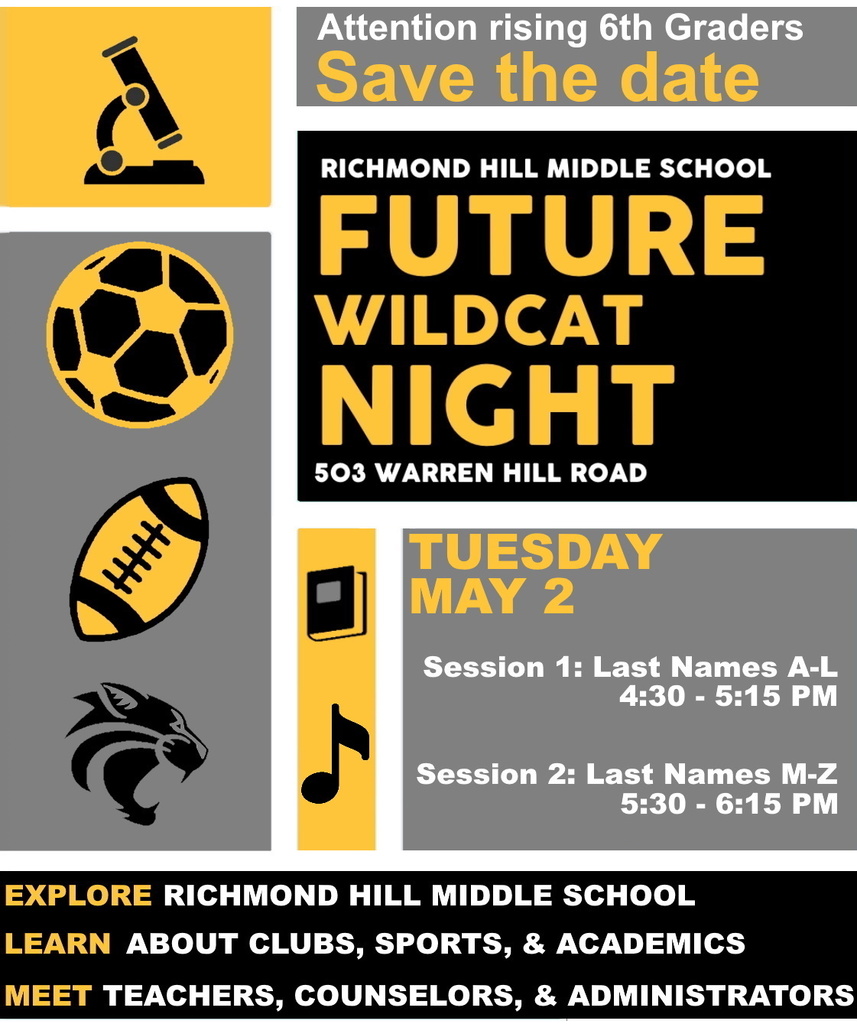 Manager's Choice Menu for Thursday, April 27th and Friday, April 28th.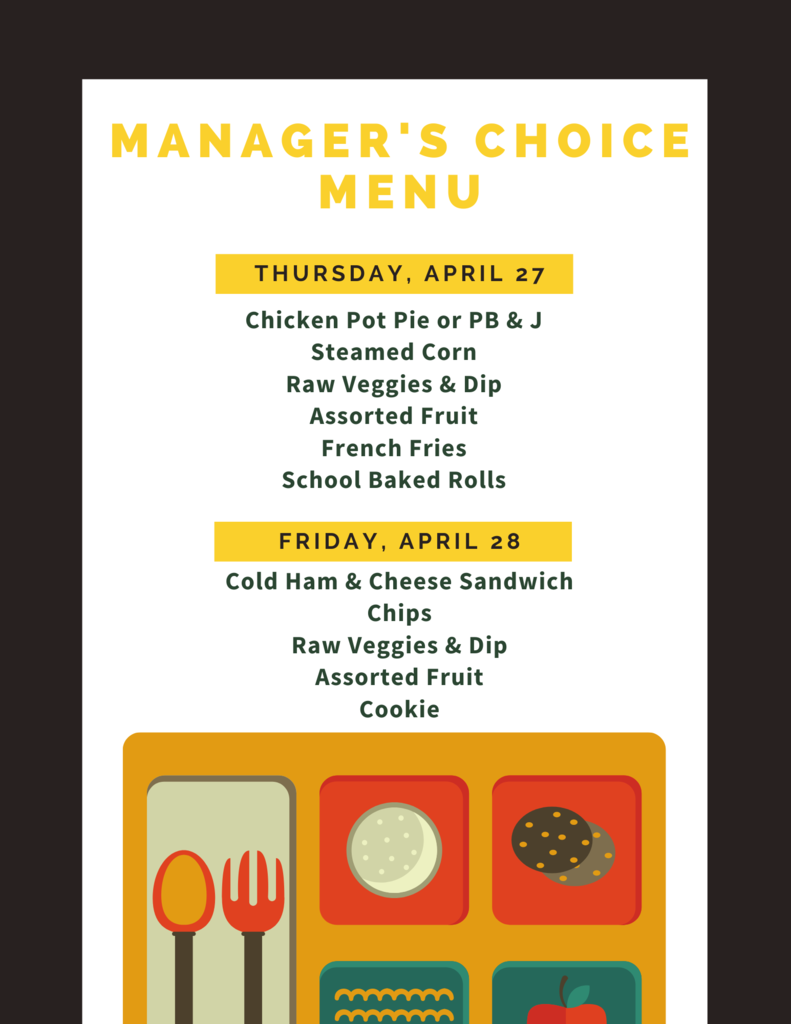 Does your family plan to move to another school district this summer? Please complete the Google Form linked below and the Registrar's office will contact you to assist in the withdrawal process.
https://forms.gle/Gtvb16PWwNWoAKiN8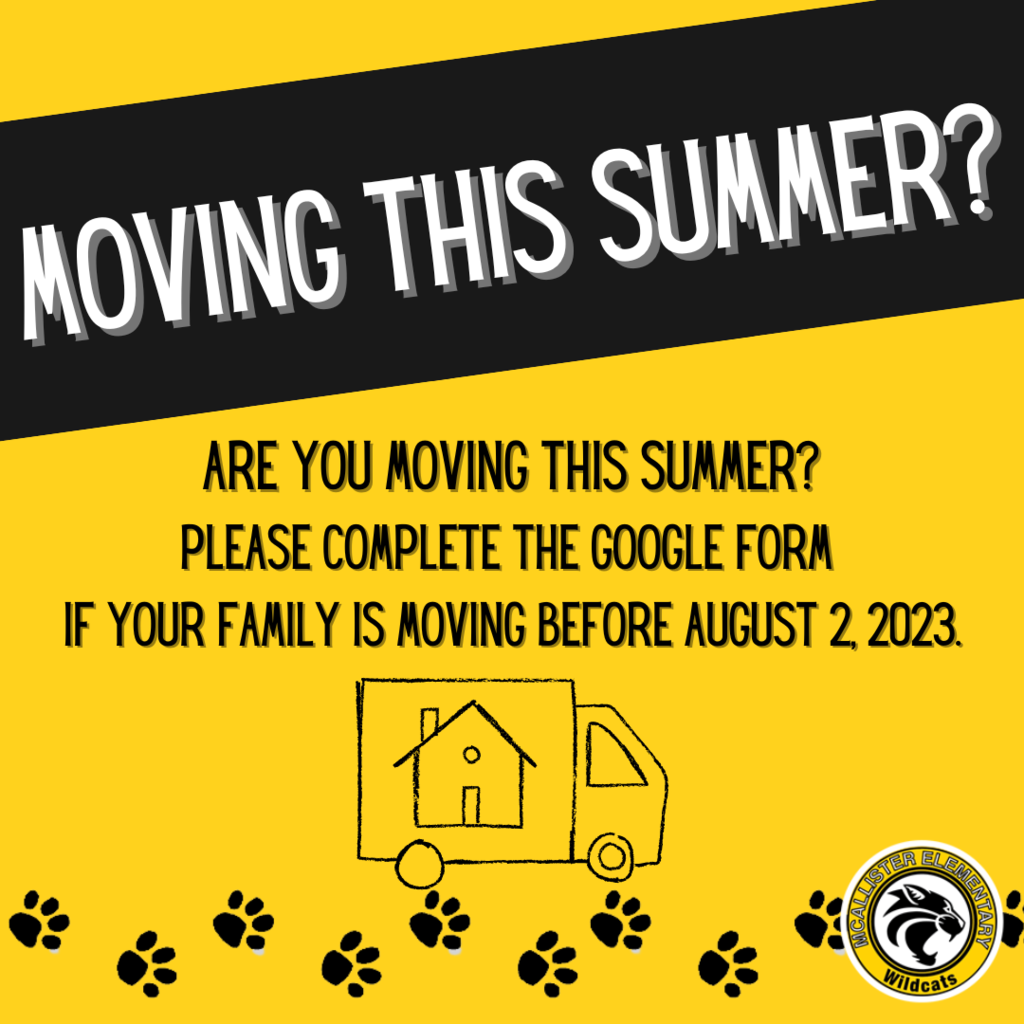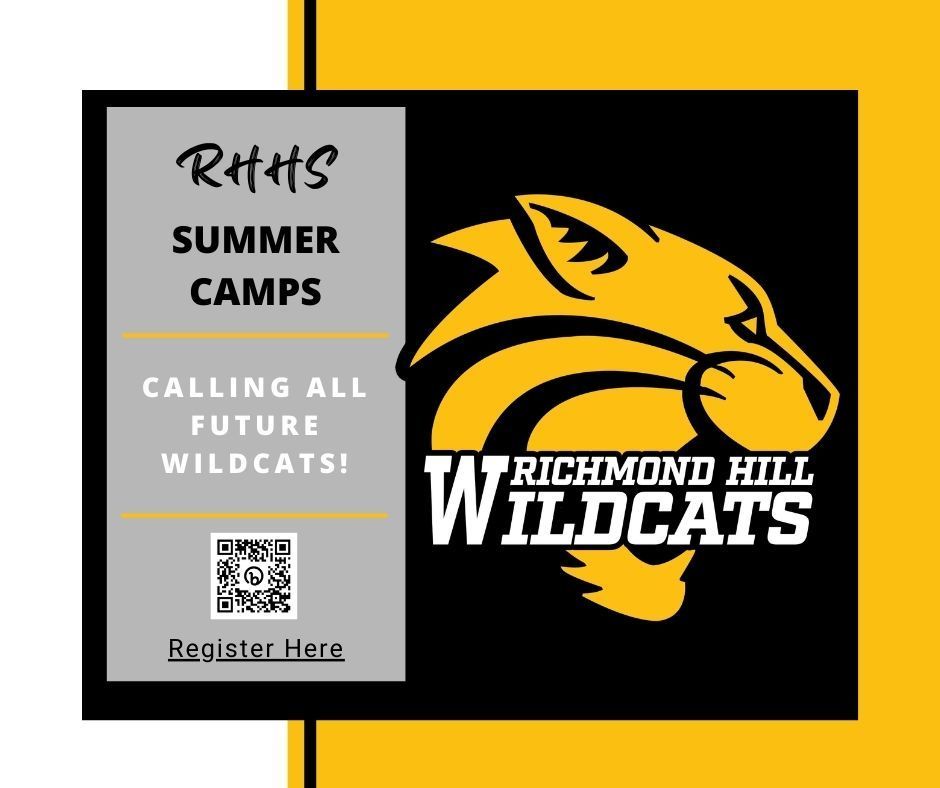 Have a safe and happy Spring Break! We will welcome our Wildcats back to MES on Monday, April 10th.

Spring Book Fair is coming to MES! The Book Fair will be open March 24th - 31st with a special Kick-Off event during Art Night on March 23rd. For all Book Fair details, visit
https://www.scholastic.com/bf/mesrocks
Scholastic eWallet is an easy way for your student to shop the Book Fair. Set up your eWallet today!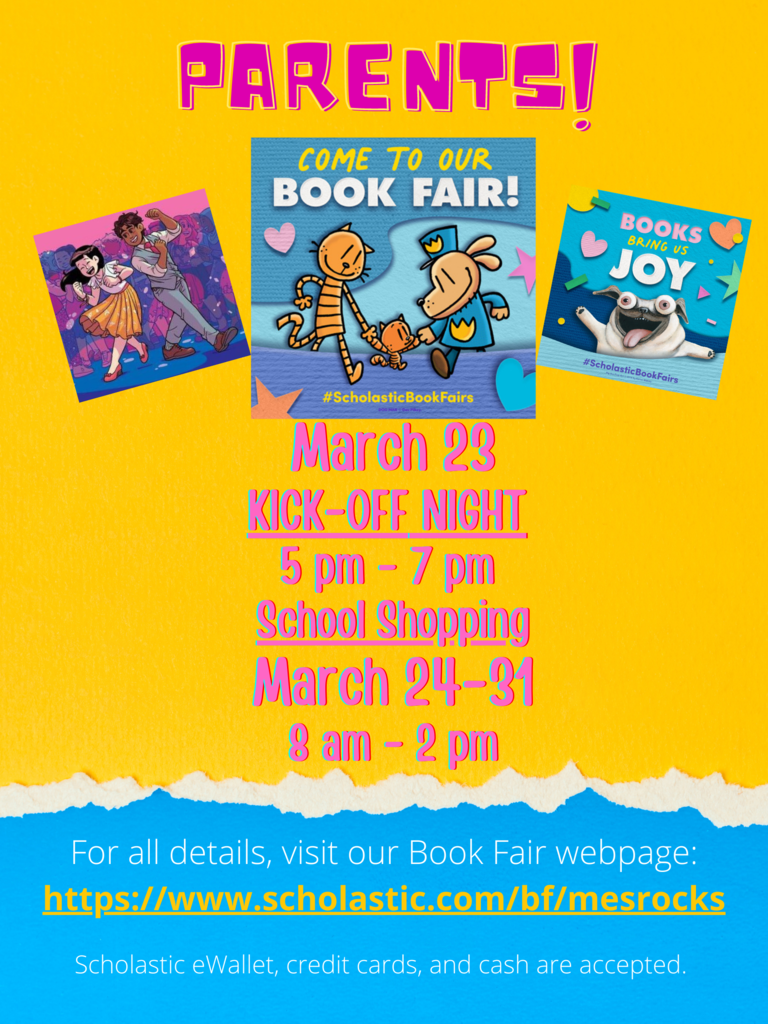 Cap and gown sets for Kindergarten Graduation are on sale on MyPaymentsPlus for $16.00. Sets will be available for purchase through March 31st. Please choose the link for your child's teacher. Save the date for Kindergarten Graduation on May 19th at 9:30 a.m.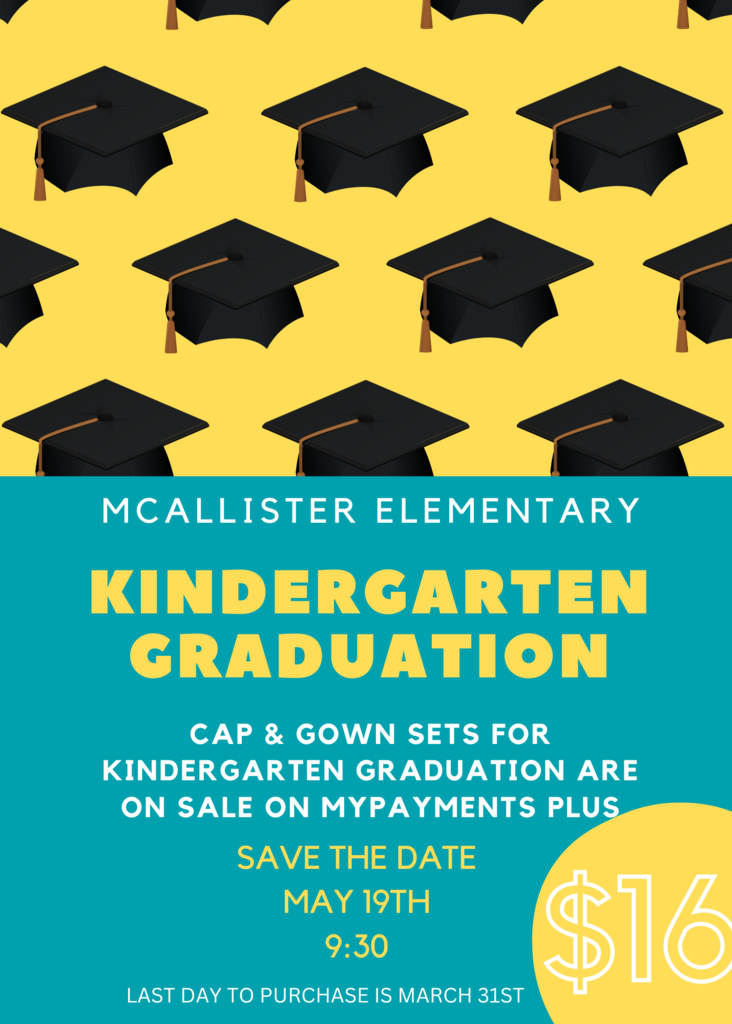 Congratulations to our winning classes for Miler Club 22-23! These classes led their grade level in total miles accumulated and will receive a pizza & pj's day to celebrate. Our Wildcats did a great job this year with Miler Club. Our MES Wildcats logged 4783.75 miles this year beating our last year's total by over 1000 miles! Way to go Wildcats! #mesruns #milerclub #mesisourhappyplace

Order your yearbook TODAY for $39! Price increases on February 26th to $49. Order at
www.yearbookordercenter.com
MES School Code-14490#schoolmemories #yearbook #mesisourhappyplace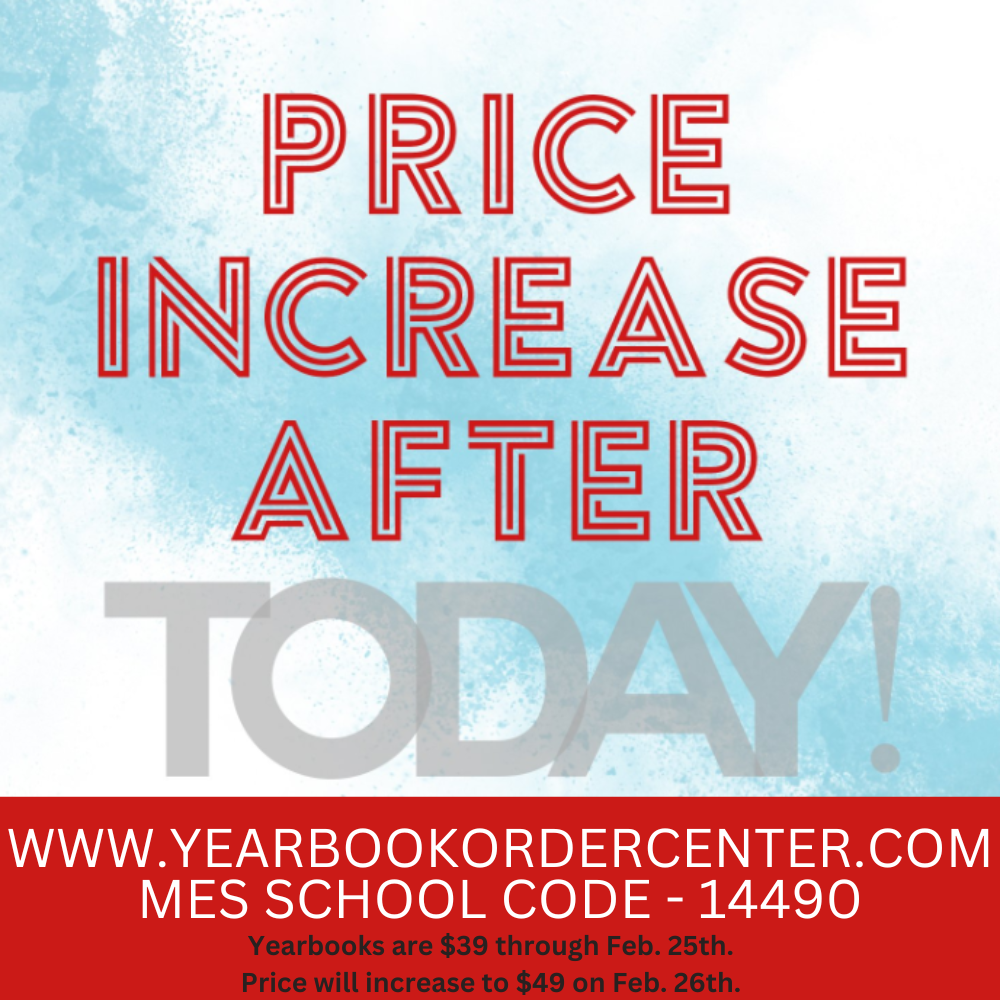 Volunteer today to talk about your career at the MES Career Fair on Friday, February 17th! Students enjoy a day to explore and learn more about various career fields. This is an opportunity for you & your business to share what you enjoy about your career field. Parents and community members are invited to conduct demonstrations, participate in an equipment parade or just share information about your career. If you are interested in participating in the Career Fair, please email Julie McNeely at
jmcneely@bryan.k12.ga.us
. Parents may also volunteer to speak in their child's classroom by emailing your child's teacher directly. We look forward to a great Career Fair 2023! #mesisourhappyplace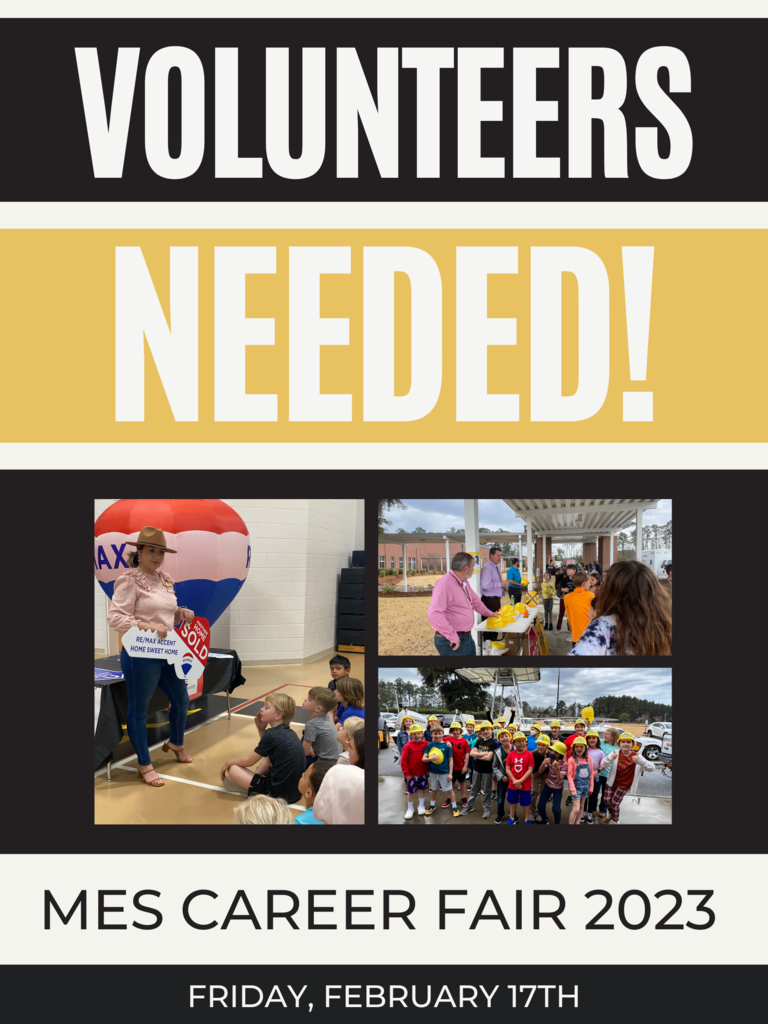 December 2nd is our first Miler Club Friday of the school year. All MES students are invited to participate. Students at recess can run/jog/walk as many 1/4 mile lap loops as they can during their 30 min. recess. Students earn prizes as they reach mile markers. Check out the prize list for 22-23. Want to know more about Miler Club and keep track of your child's results? Bookmark the Miler Club website -
https://sites.google.com/view/rhxctf/miler-club
#mesruns #milerclub #mesisourhappyplace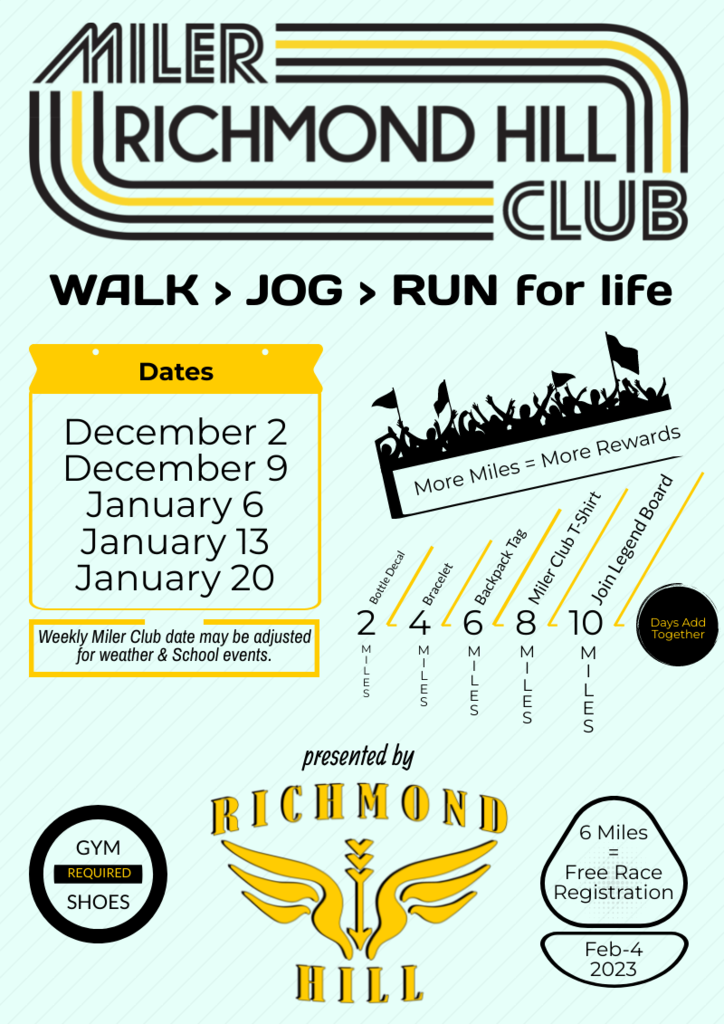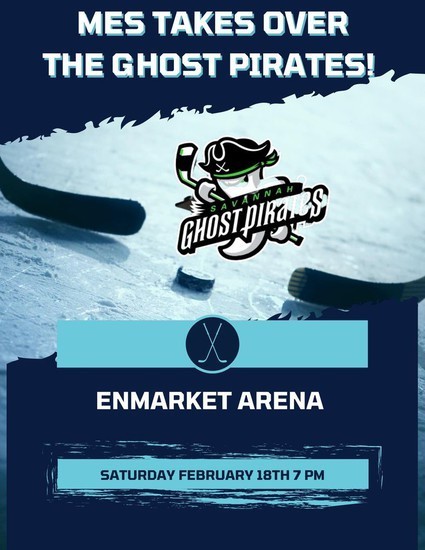 Congratulations to Mrs. Brittany Nearhoof, Bryan County Schools District Level Teacher of the Year! "Mrs. Nearhoof has an incredible passion for art and an enate ability to instill that passion in others. She truly believes everyone is an artist and works daily to bring out the creativity in all of those around her. Mrs. Nearhoof builds meaningful connections with her "artists" and knows all by name. Her love for art and teaching has pushed past the walls of McAllister and has seeped into the community in galleries, doctor's offices, restaurants, and more. She is truly transforming not only our school but our community as a whole." Stated Mrs. Heather Tucker, Principal of McAllister Elementary. Mrs. Nearhoof will represent Bryan County Schools as she participates in the state level Teacher of the Year process. Every district across the state selects a Teacher of the Year representative who is dedicated, knowledgeable, and displays skills that inspire students of all backgrounds and abilities to learn. State School Superintendent, Richard Woods and his Excellence Recognition Unit, review the applications and select a state level Teacher of the Year to represent Georgia. The state level Teacher of the Year winner will be announced at the Teacher of the Year recognition banquet held in May 2023. During the year, the Georgia Teacher of the year serves as an educational ambassador for the Georgia Public School System and advocates for the system, its students, and its teachers.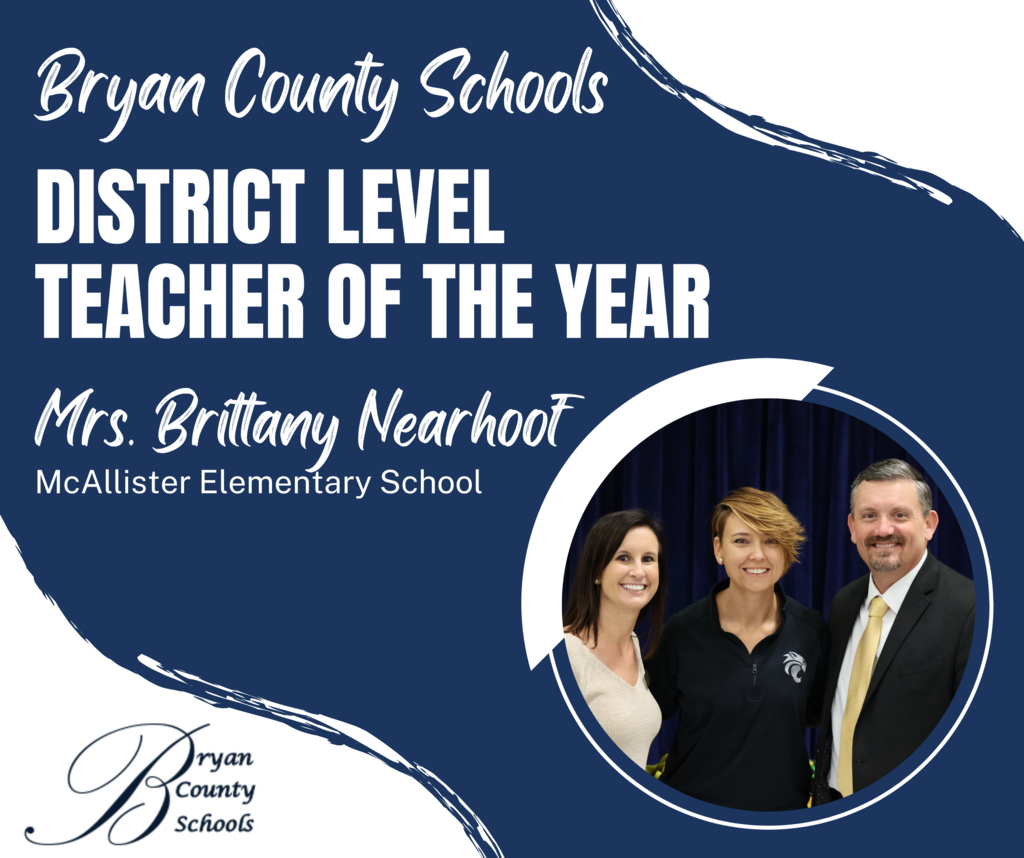 Save the date for the MES Holiday Book Fair! Set up your child's E-Wallet today. Parents will be able to shop with their child during their class signup time or from 3:00-5:00 on Weds. Teachers will send out shopping times through Remind by November 28th! #bookfair #campreadsmore #mesisourhappyplace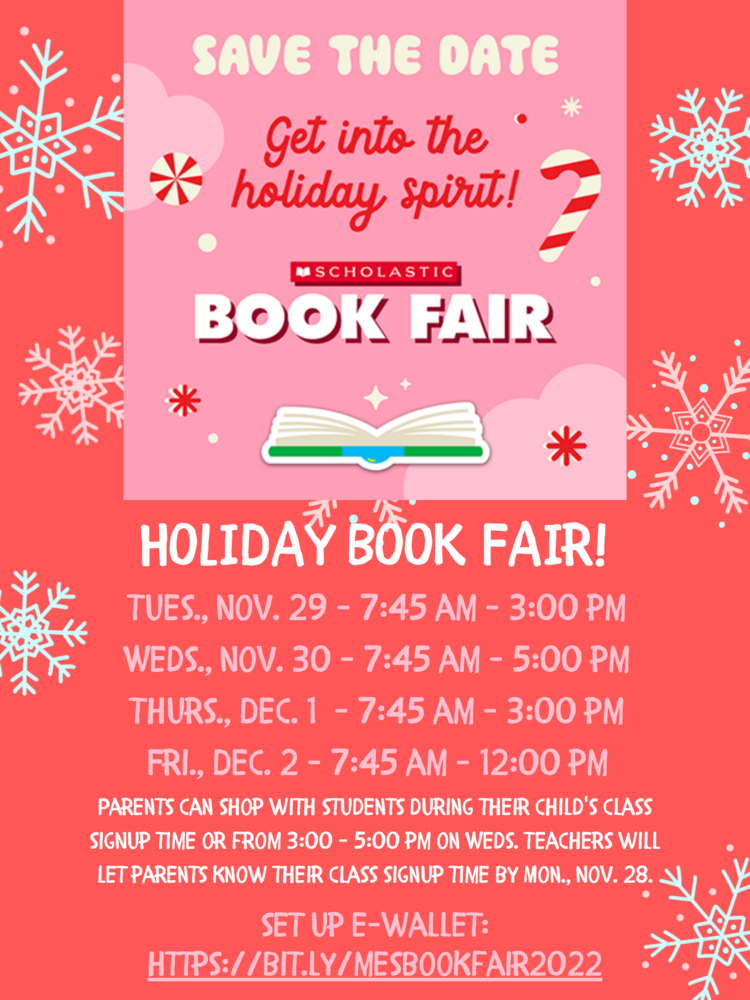 Art to Remember Orders are due tomorrow, November 8th. #mesart #mesisourhappyplace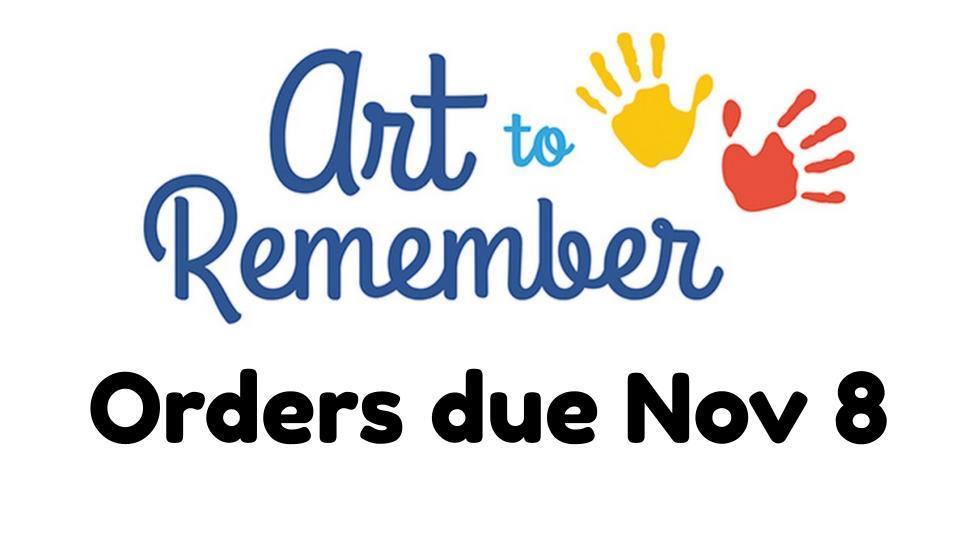 Mark your calendars for the MES Veterans Day Program on November 3, 2022, at 6:00 p.m. in the MES Cafeteria. MES salutes all who have served and continue to serve. Thank you for being our heroes! Please join us as we celebrate you! #VeteransDay #mesisourhappyplace