LIVE FEED

Bryan County Schools ,
1 day ago
BCS: We have established a centralized location where BCS technology devices will be issued and replaced by appointment. The tech depot will be open on Tuesdays and Thursdays between the hours of 9:00am & 1:00pm.
Scheduling of appointments can be done by either calling or using this online link: https://tinyurl.com/upqh47h
South Bryan Tech Depot:
Community Education Front Lobby
120 Constitution Drive, Richmond Hill, Ga 31324 Contact number: 912.531.3099
North Bryan Tech Depot:
Bryan County High School Front Lobby
1234 Camelia Drive, Pembroke, Ga 31321
Contact number: 912.704.1804

Bryan County Schools ,
1 day ago
Today is the day! Who do you have living in your house today? Let the Census 2020 know and be counted!
Bryan County only has a self-response rate of 33.1% as of now.
Over the next decade, lawmakers, business owners, and many others will use 2020 Census data to make critical decisions. The results will show where communities need new schools, new clinics, new roads, and more services for families, older adults, and children.The Census data is used to draw congressional and state legislative districts, county seats, Board of Education seats and so much more!
The results will also inform how hundreds of billions of dollars in federal funding are allocated to more than 100 programs.
Complete yours today - it takes less than 10 minutes.
Be counted Bryan County!

Bryan County Schools ,
1 day ago
Message from our Superintendent:
As we enter our second week of Digital Learning Days (DLD), we want to thank teachers, students, staff, and parents again for their amazing work during our attempt to maintain some sense of normalcy with our day-to-day activities. In keeping with the spirit of "normalcy", we will be following our adopted 2019-2020 school calendar by taking our spring break holiday from April 6th through April 10th. This is a much needed break for teachers, students, and parents who all need an opportunity to recharge their batteries.
Since Bryan County Schools will not be in session during Spring Break, April 6 – 10, we will not be providing Meals on the Bus or Curbside food service at this time. This prescheduled break in our 2019-2020 school calendar will give our extremely dedicated school nutrition staff, bus drivers, and others involved an opportunity to catch their breath and prepare for our Meals on the Bus and DLD return on April 13th. Kudos to this team, who we anticipate will have served over 50,000 meals by this Friday! If you still have a need for food during Spring Break, please reach out to one of our community partners that will be available to assist families in both north and south Bryan during this time:
Bryan County Family Connections 912-653-3824
United Way of Coastal Empire for Bryan County 912-651-7750
As the safety and health of all students, staff and our community continue to be the top priorities of Bryan County Schools, please continue to follow the guidance of the Centers for Disease Control and Prevention (CDC), along with local, regional and national health agencies regarding COVID-19. Thank you for your commitment to your families, Bryan County Schools, and the amazing community where we reside. We have embedded a link from the CDC that provides tips on keeping children healthy while school's out.
Caring for Children: Tips to keep children healthy while school's out.
https://www.cdc.gov/…/2019-…/daily-life-coping/children.html

Bryan County Schools ,
3 days ago
This week's Employee Spotlight is the Cafeteria Crew from Bryan County Elementary School. Join us in thanking these ladies for exemplifying "Excellence in Everything!"
view image

Bryan County Schools ,
3 days ago
Reminder: The Curbside Service edition of Meals on the Bus happens every day from 11:00am-1:00pm at Richmond Hill High School and Bryan County Elementary. All children 18 years and younger may eat at no cost. Come on by to pick up lunch and the next day's breakfast. We provide service with a smile! 😊
SEE ALL posts
News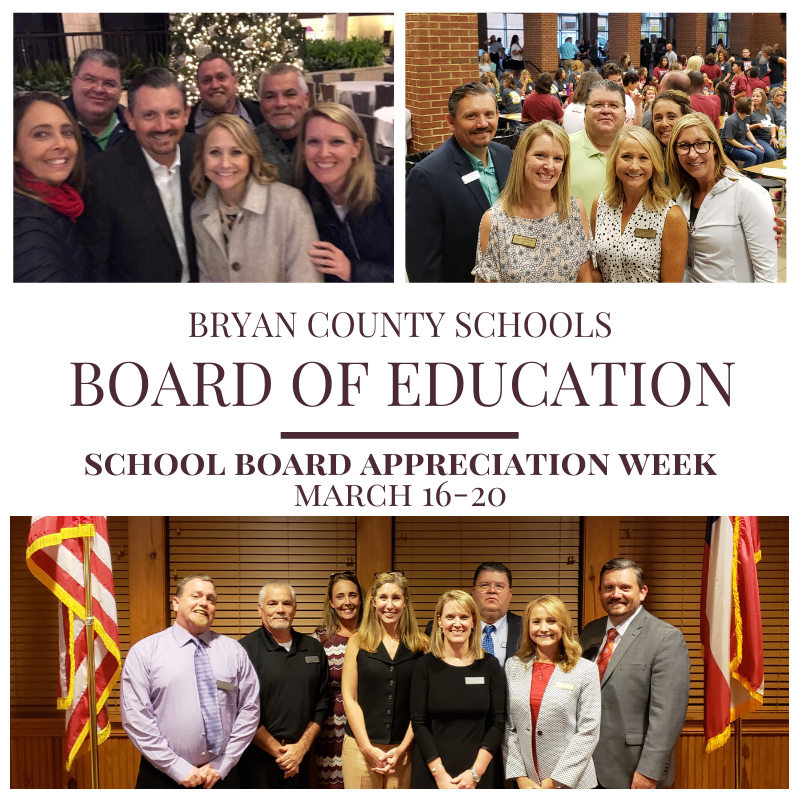 Bryan County Schools joins Georgia School Boards Association's (GSBA) "School Board Member Appreciation Week" celebration to salute the efforts of local school board...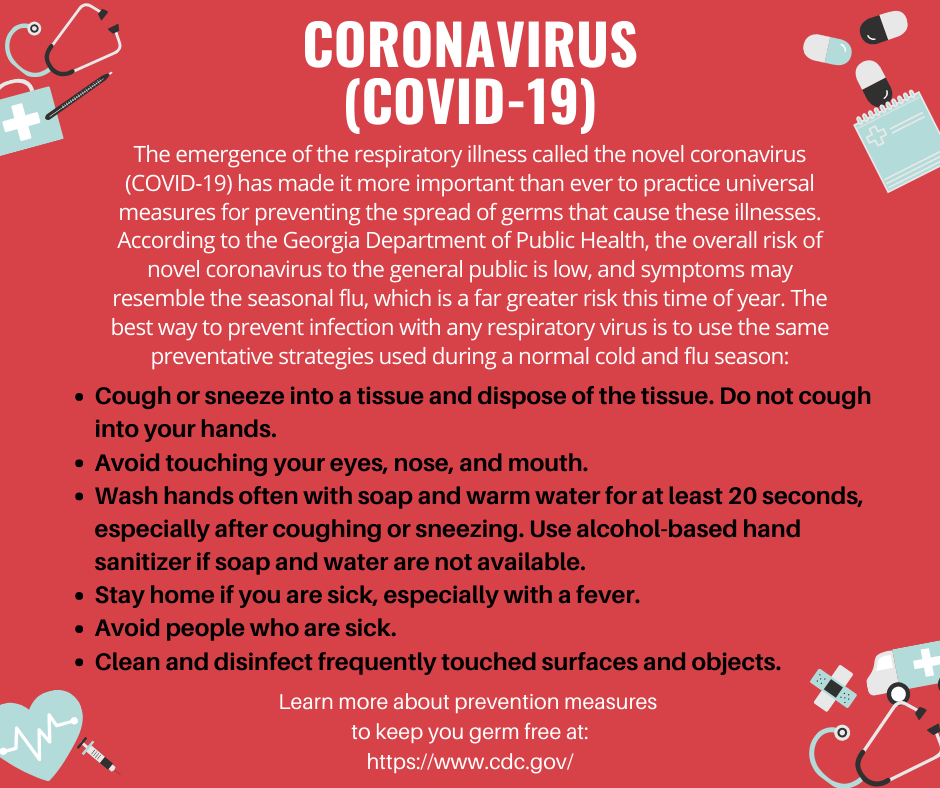 Bryan County Schools has no higher priority than the health and safety of our students, staff, and families in our community. We remain in close contact with local, state,...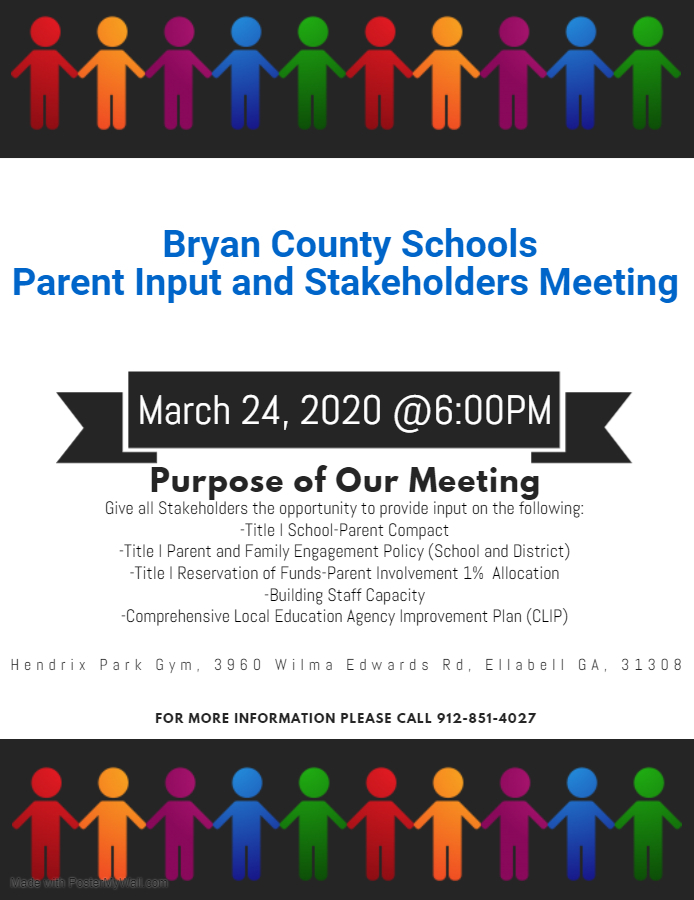 This meeting has been cancelled.
SEE ALL NEWS